Lentil and Black Eyed Pea Shepherds Pie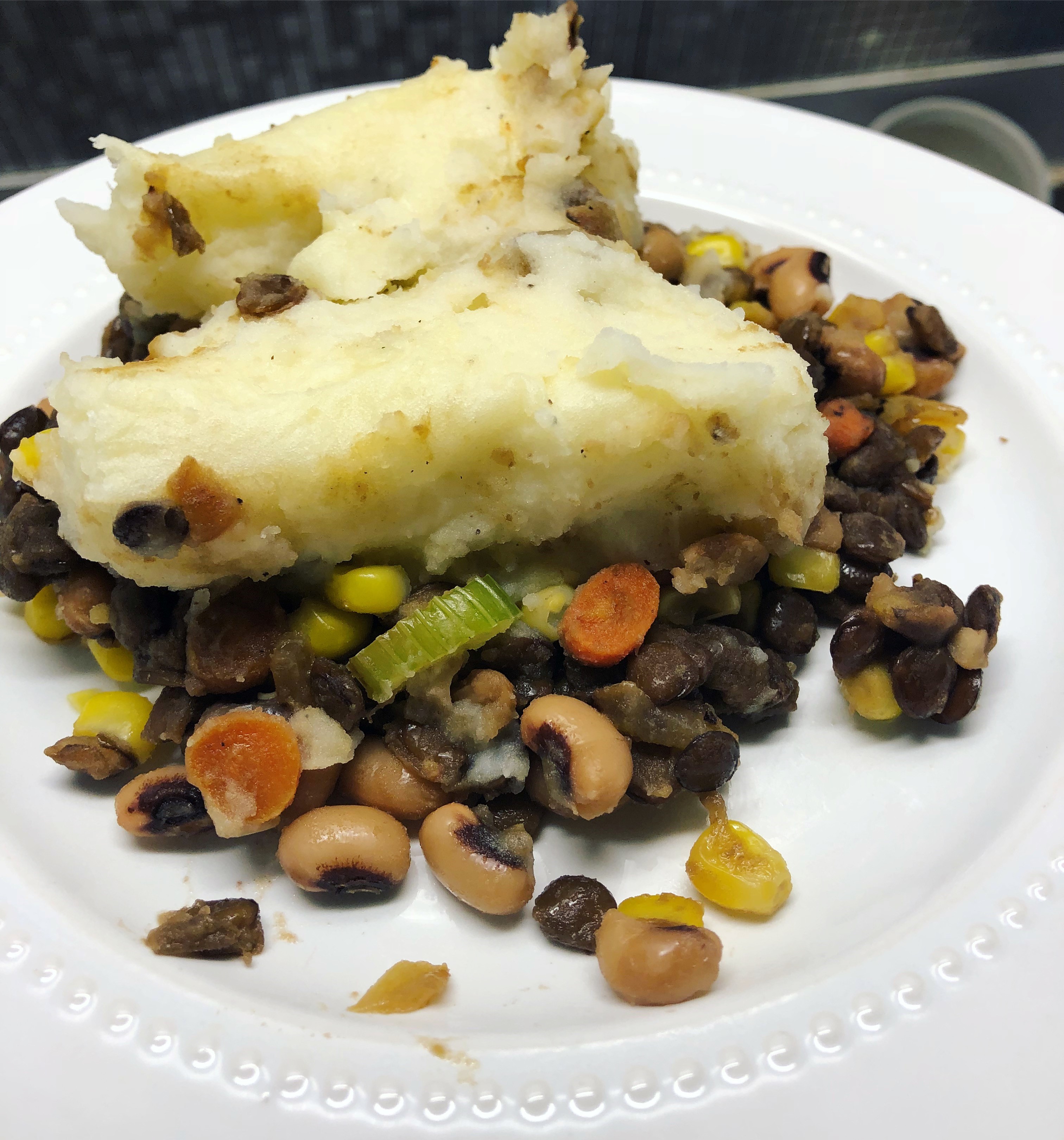 ---
So I got an Instant Pot for Christmas and I won't lie - I was pretty intimidated. I let it sit on the counter and I made a point to not look in its direction any time I was in the kitchen. This went on for a week and during that time I watched video after video on how to use it, trying build up the confidence to put it to use. I finally worked up the courage on New Years day!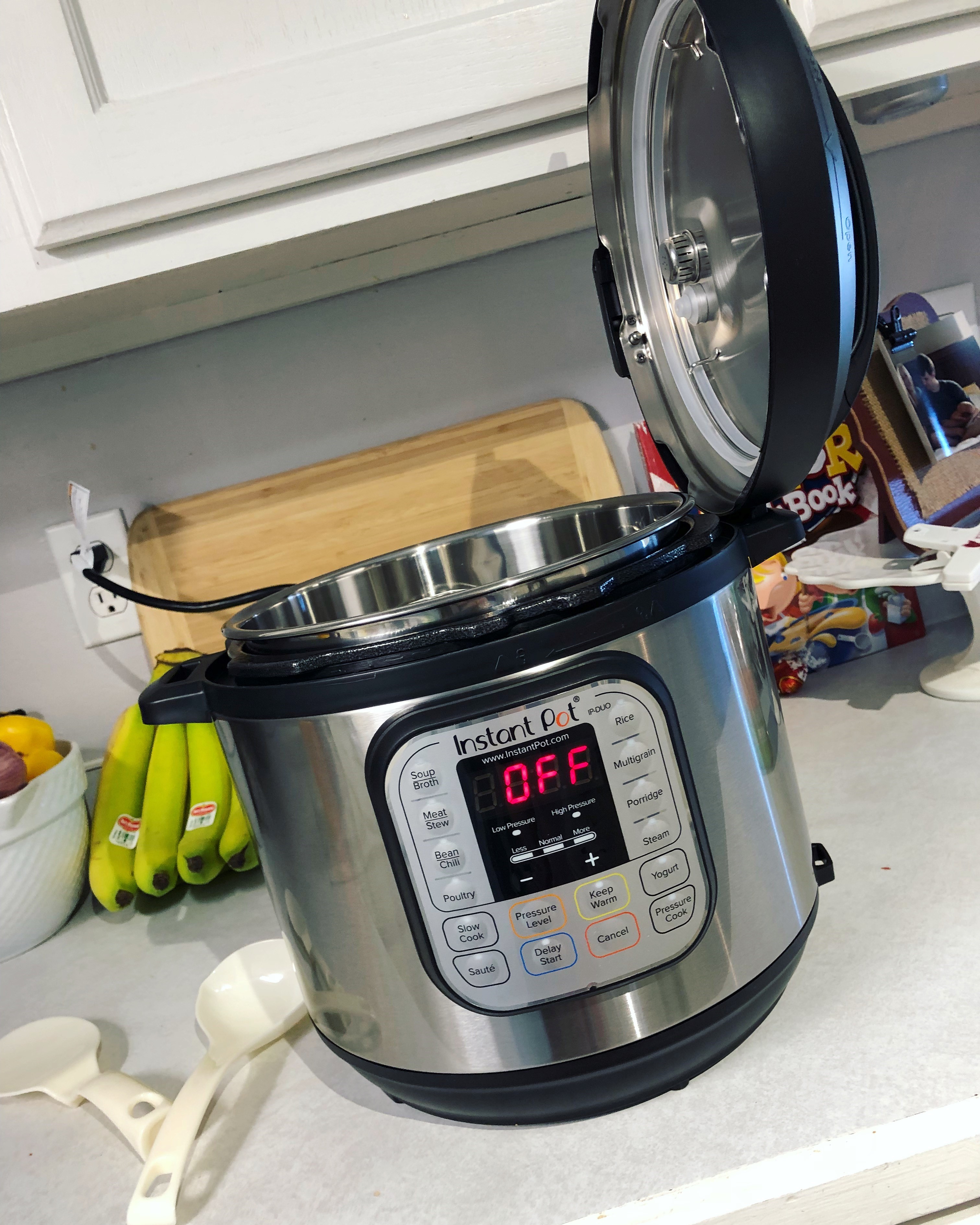 I really wanted to create my own recipe for New Years dinner and it was a Monday, which meant it had to be meatless.
I love lentils but I have had absolutely terrible experiences cooking them. No matter what, they turn to mush or they come out totally weird and flavorless. I repeatedly read that lentils could be cooked perfectly (like many other things, according to fans) in the Instant Pot. So it was decided - I'd make a vegetarian shepherd's pie using lentils, black eyed peas (it's New Years, after all), and the usual shepherd's pie veggies.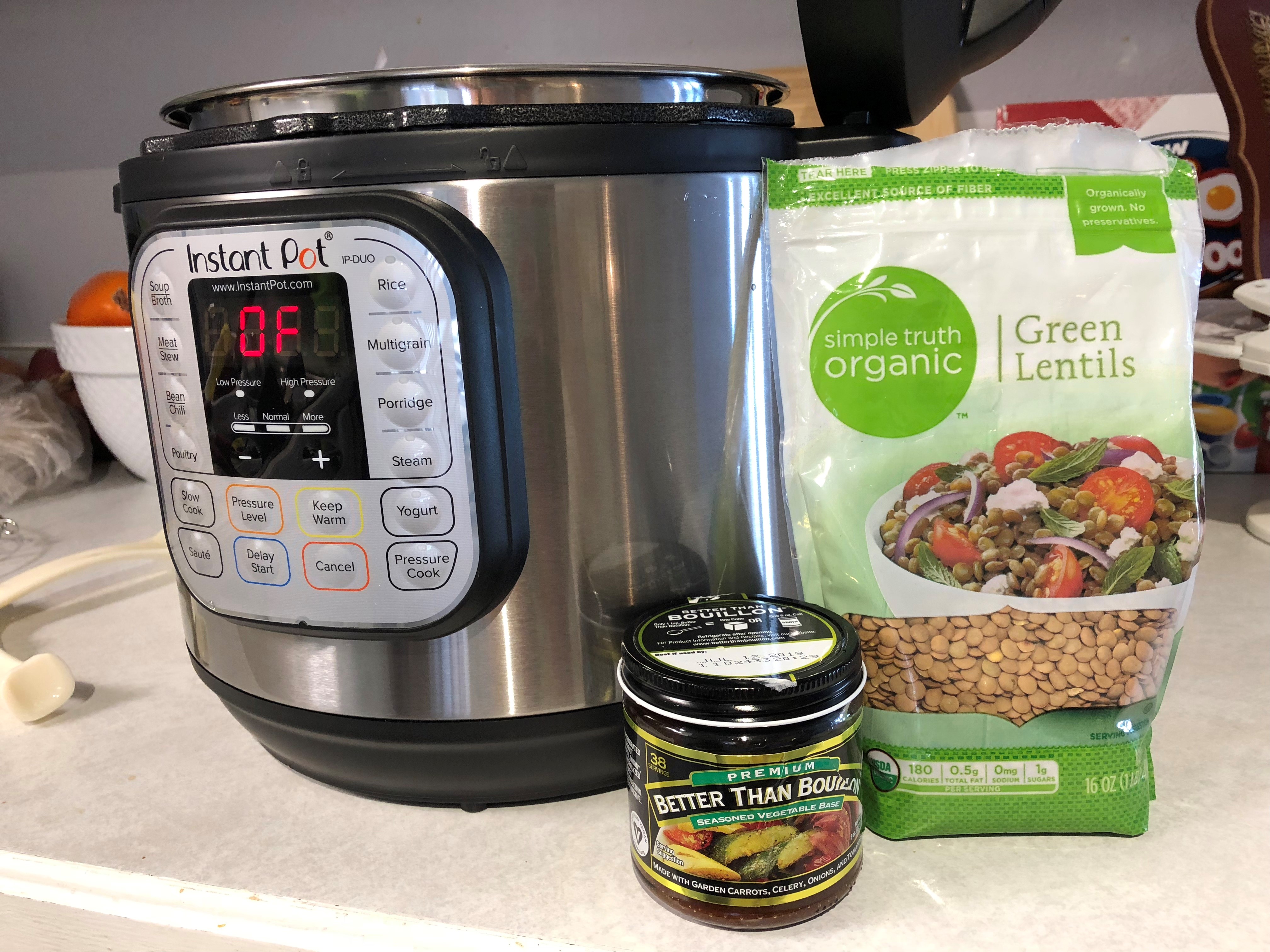 I used a ratio of 1 cup of green lentils to 2 1/2 cups water and added those to the pot. I like flavor, especially for a meatless meal, so I also added in one tablespoon of vegetable broth base. Closed the lid, moved the little knob to 'sealing', set it to 'high pressure', used the manual  button (pressure cooking) to adjust it to 15 minutes and off it went. Because there wasn't much in the pot it came to pressure quickly and once it was finished, I let the pressure release naturally for 5 minutes, then moved the knob to release the rest.
When I say the lentils came out perfectly, I mean PERFECTLY.
I had read that there may be excess water to drain, but not in my case.
I'm glad I added the vegetable base because the flavor was amazing. The texture came out perfectly too - smooth, but still had bite to it!
I'm happy to say my Instant Pot experience was an amazing success (I went on to hard boil eggs and make jasmine rice for a dinner later in the week and they came out great). I plan on using it a few more times in my meal prep and doing a product review on it for those who are on the fence or just got one!
Also a success was the shepherd's pie! My husband, who is a hardcore meat lover, has been very open-minded about meatless Monday and even though he always says he likes my meatless meals, I can read him well enough to know when he actually does. This time it was pretty obvious - he raved about it, went back for seconds, and took leftovers for lunch the next day.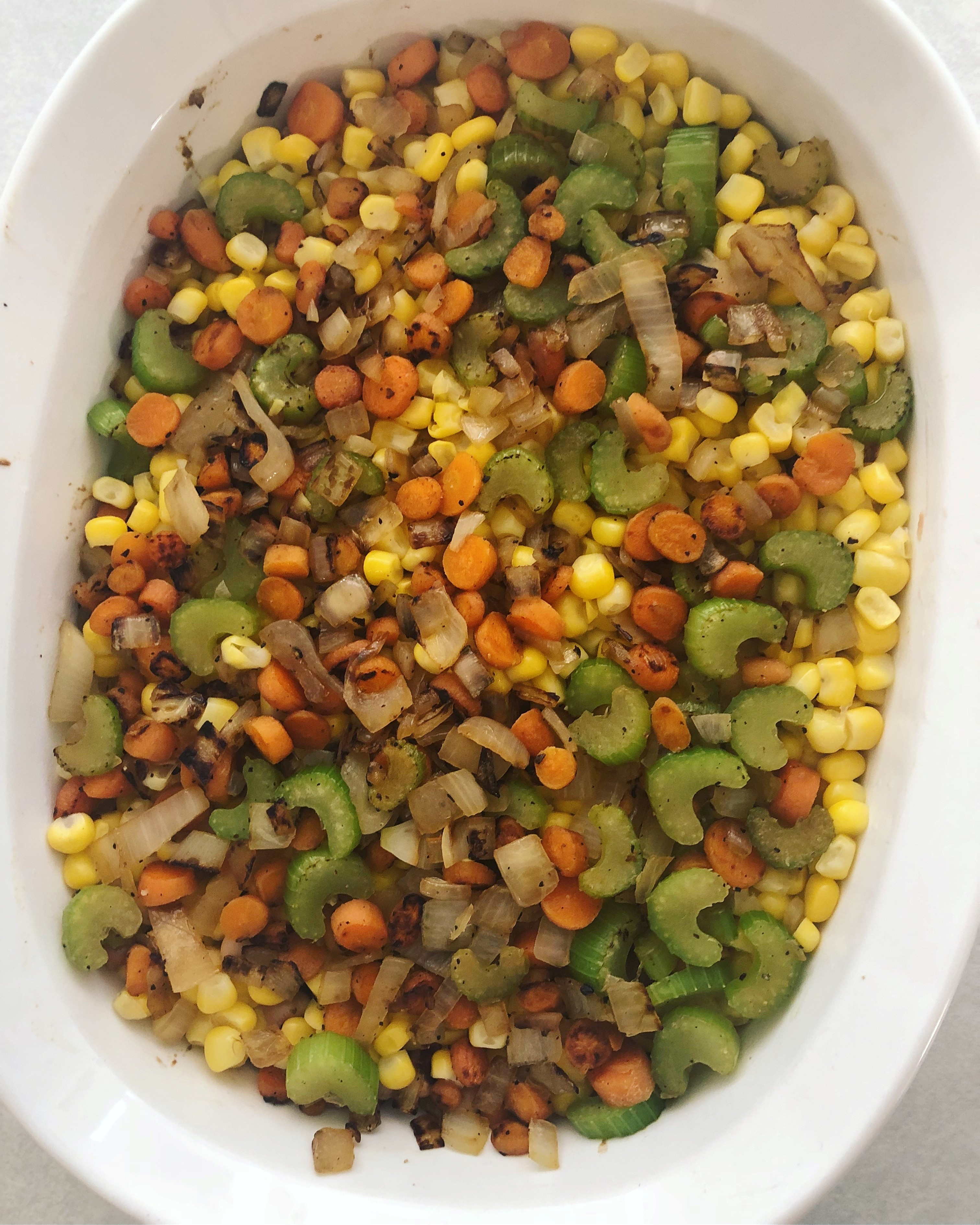 And I agreed! The meat was NOT missed! The lentils and beans provided enough protein and fiber to fill us up, the other veggies created the perfect center, and the velvety potatoes on top really completed the dish.
This recipe is definitely going in my recipe book and will make its way back to our dinner table soon!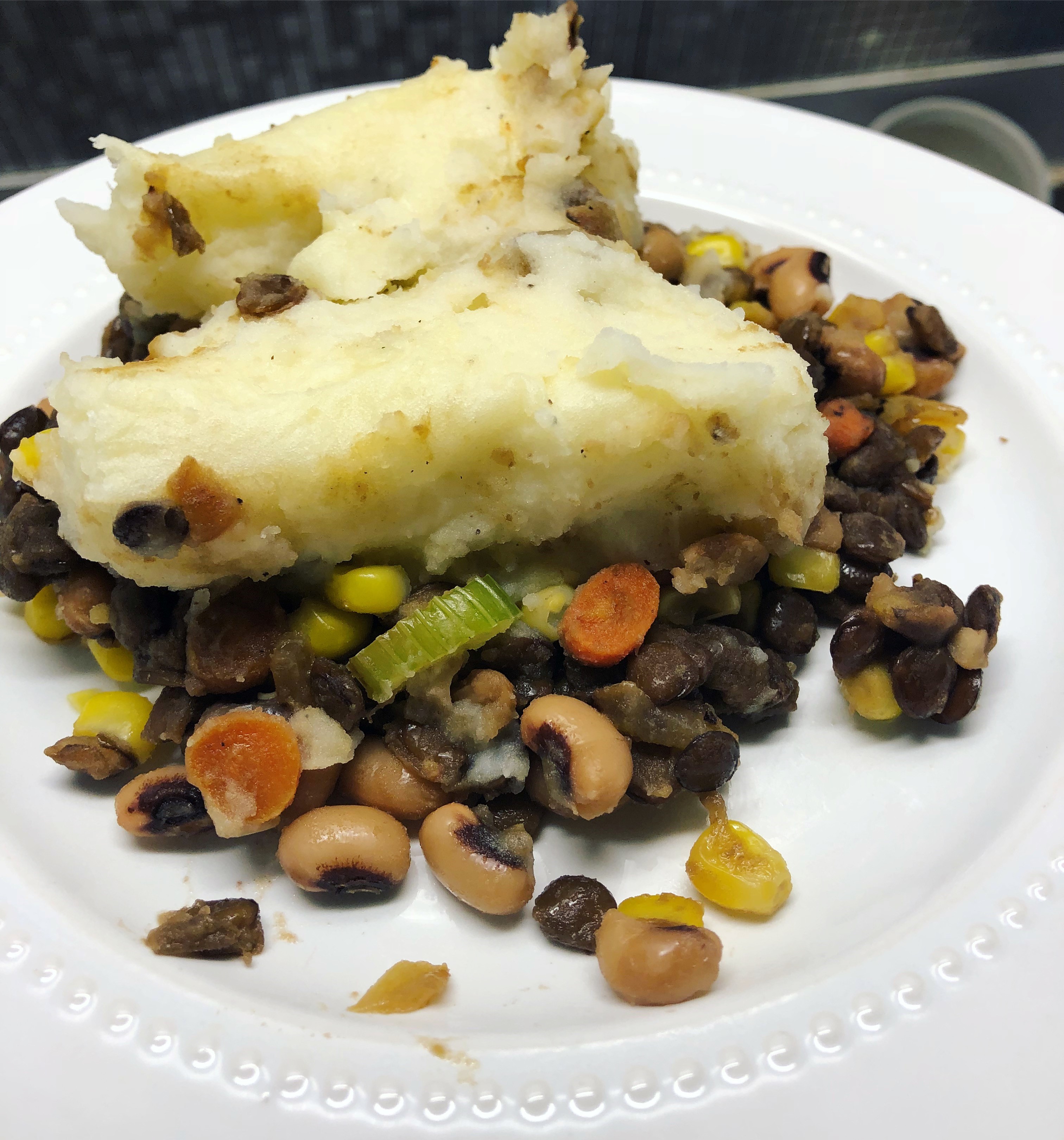 If you've been waiting to try a meatless dish, let THIS be the one!
HERE'S WHAT YOU NEED:
1 cup dry, green lentils
2 1/2 cups water
1 tablespoon vegetable broth base
1 can black eyed peas, drained and rinsed
1 cup frozen corn, thawed
1 tablespoon olive oil
1/2 yellow onion, diced
2 large carrots, peeled and chopped
2 celery stalks, chopped
dried parsley
2 large russet potatoes, peeled and cut into cubes
3 cups water (enough to cover potatoes)
2 tablespoons butter
1/4 cup milk (more if needed)
Salt and pepper
HERE'S WHAT YOU DO:
Cook the lentils, water, and broth base in pressure cooker or on stove top
Layer the lentils in the bottom of a baking dish
Add a layer of black eyed peas on top of lentils
Add a layer of corn on top of black eyed peas
Cook onion, carrot, and celery in oil on stove top until soft. Add parsley. Layer on top of corn.
Place potato in medium sauce pan and cover with water. Bring to a boil, reduce to a simmer, and cook until soft (about 15 minutes).
Drain potatoes and add butter and milk. Mash until combined. Add salt and pepper to taste.
Layer potatoes on top of onion, carrot, and celery and spread until evenly covered.
Place in a 350 degree oven for 20 minutes, or until heated through and potatoes have stiffened.
Remove and let sit for ten minutes.
Enjoy!
*This can be made ahead (I made it in the morning and let it sit in the fridge all day). Adjust cooking time to 45 minutes, or until heated through.*
Serving & Nutrition Information:
Yield: 6 servings. 1 serving contains 270 calories, 3g Total Fat, 47g Carbs, 14g Fiber, 8g Sugar, 15g Protein
---
---