RECIPE: TURKEY SAUSAGE, WHITE BEAN, & SPINACH SOUP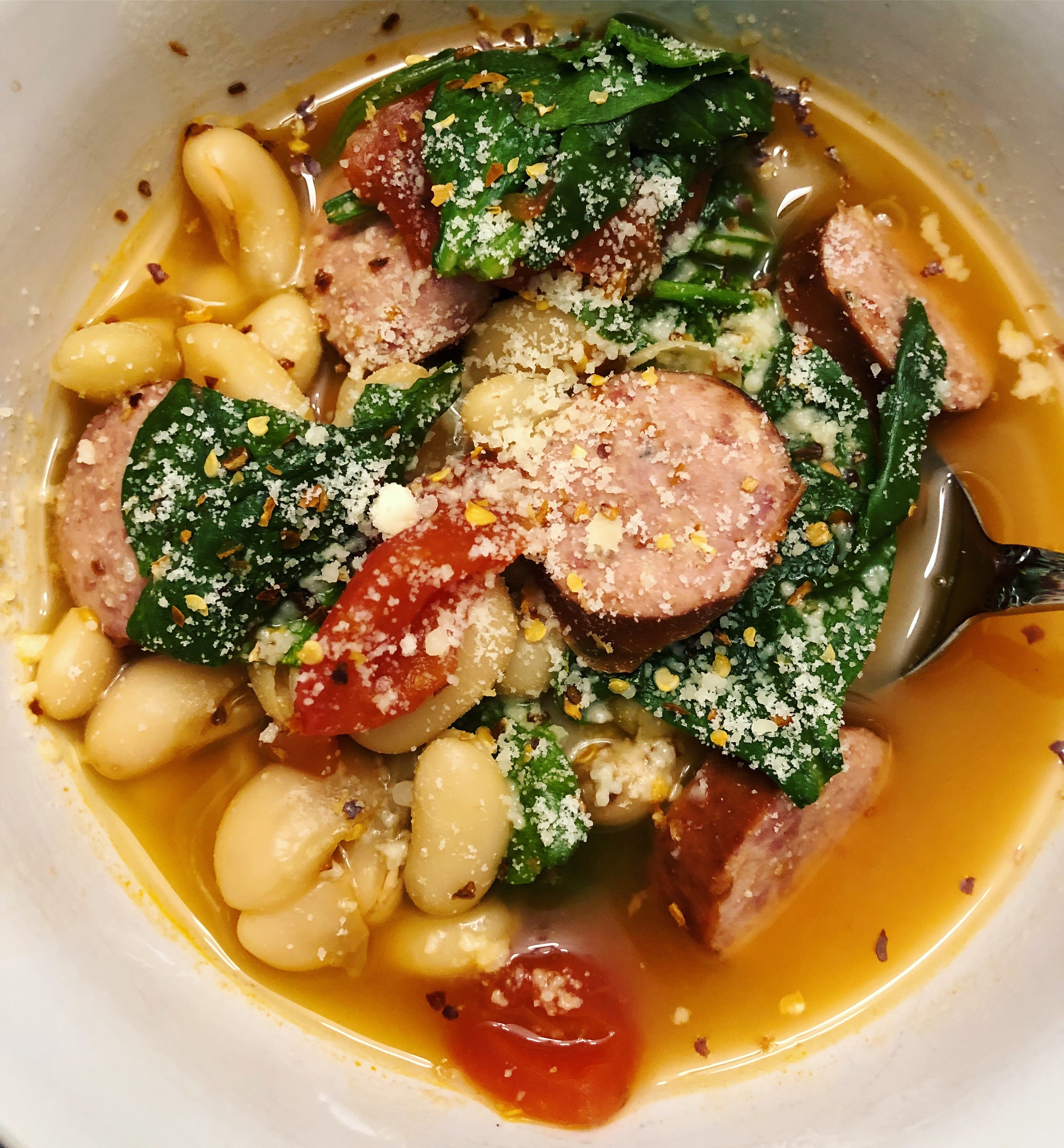 ---
Oh, I just love this soup! It's SO easy and it's full of nutrients and good stuff and it's just wonderful!
This is another recipe that used to have a much higher calorie count and lacked some veggies, but a few swaps and add-ins and it's a dinner I can feel good serving to my family!
And did I mention it's a slow cooker recipe?!?!
Yep! Just cook your sausage, throw all the ingredients in to cook all day, and add your spinach at the end!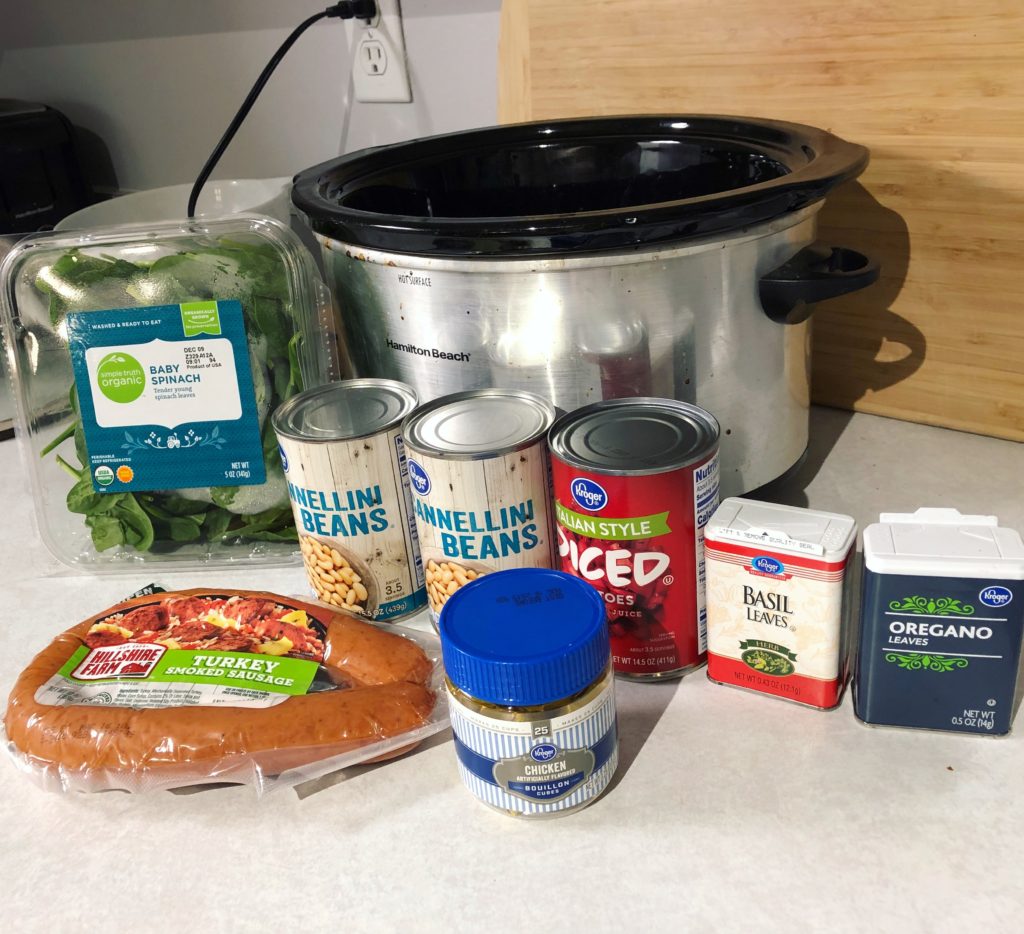 This recipe is simple and delicious! I throw in some spinach at the end, but it would be easy to add even more soft veggies to make it more nutrient-dense. I've added in cooked bell pepper and carrot to this recipe and it was even more fabulous. However, for a quick "throw it in and go," the spinach and tomatoes are plenty and add a nice dose of Vitamin C and potassium.
Swapping regular sausage for turkey sausage brings the fat and calorie content down a bit and the beans are an excellent source of fiber and protein.
I love to serve this soup with a crusty, multigrain french bread to soak up all of the leftover broth! Top it with parmesan cheese and add a little heat with some crushed red pepper flakes.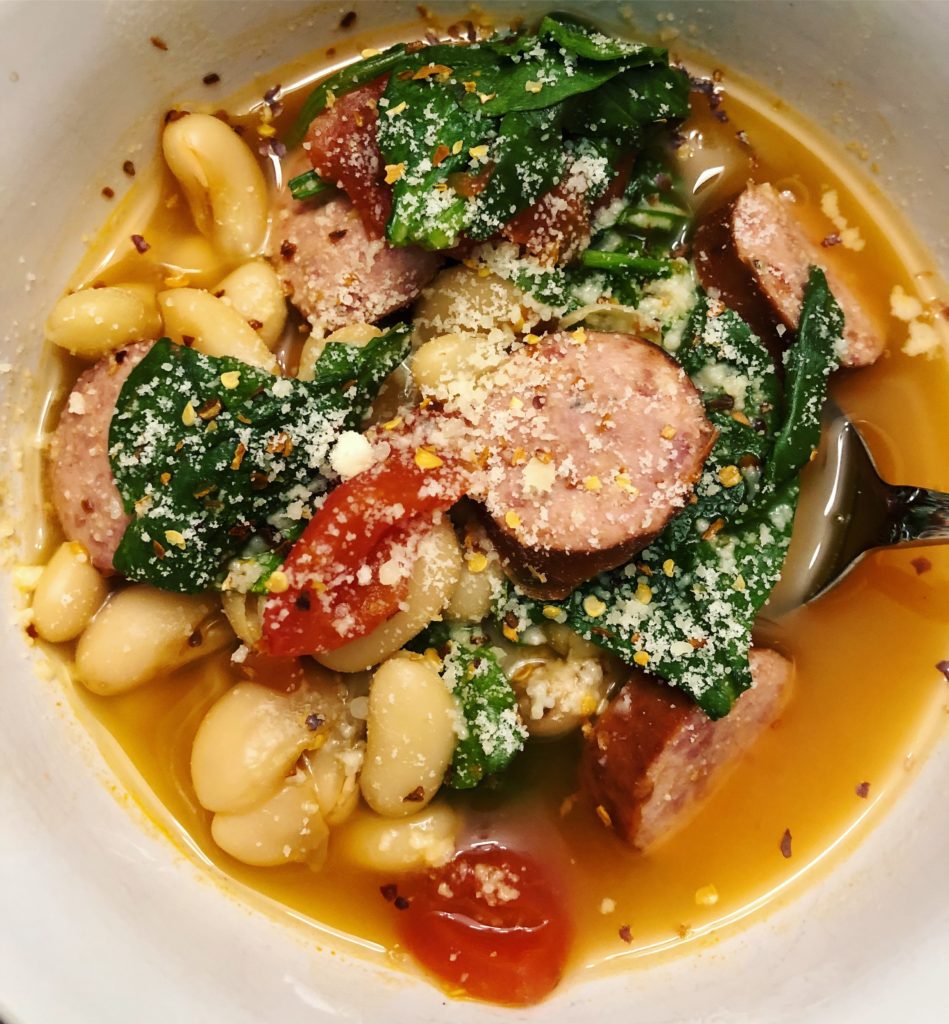 Give this soup a try on your next busy night!
HERE'S WHAT YOU NEED:
13 oz smoked turkey sausage, cut into rounds
1 can diced tomatoes, Italian style
2 cans cannellini beans, drained and rinsed
5 cups low-sodium chicken stock
1/2 teaspoon dried oregano
1/2 teaspoon dried basil
3 cups spinach
6 tablespoons parmesan cheese
Salt, pepper, crushed red pepper flakes (optional)
HERE'S WHAT YOU DO:
Cook sausage in a fry pan over medium heat until cooked through.
Add sausage to slow cooker.
Add tomatoes, beans, stock, and seasoning to slow cooker and combine.
Cook on LOW for 6-8 hours or on HIGH for 4 hours.
Add spinach to slow cooker 10-15 minutes before serving.
Serve in bowl and top with 1 tablespoon parmesan cheese.
Enjoy!
Serving & Nutrition Information:
Yield: 6 servings. 1.5 cups of soup contains 232 calories, 7g Total Fat, 24g Carbs, 7.5g Fiber, 1.5g Sugar, 19g Protein
---
---