POOLSIDE MUST-HAVES: FitMark Meal Prep Bag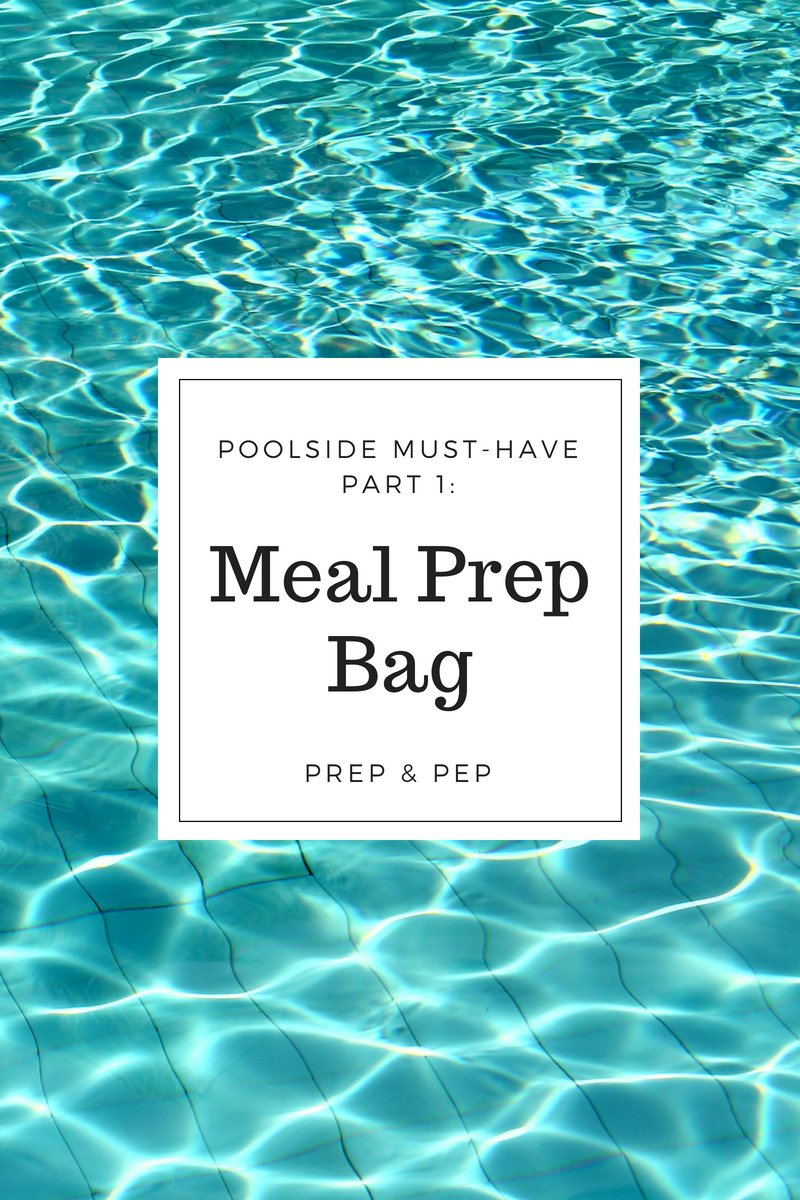 SUMMER IS HERE!! IT'S REALLY HERE!
Honestly, I'm partial to summer. I'm a July baby and my second kiddo was born in July (I went into labor with him on the night of my birthday and he was born the next day!). It's also just the best time of year- 4th of July, grillin' and cookouts, fresh lemonade, the best fruit is in season, traveling and vacations, popsicles and ice cream, and spending the day at the pool!
Today I am sharing Part 1 of a 3-parter: My Poolside Must-Haves. It's Memorial Day weekend, so what better time than now to get yourself ready for those pool days so you can keep on track with your goals and stay fueled.
For Part 1 of my Poolside Must-Haves, I'm tying in a Product Review as well. This is a product I've been carrying around for a while now and I wanted to get some good use out of it before I gave it a proper product review. I already loved this product, but after our last pool trip, I realized this thing is worth it's weight in gold. SO what is this poolside must-have that I cannot live without?
A FitMark meal prep bag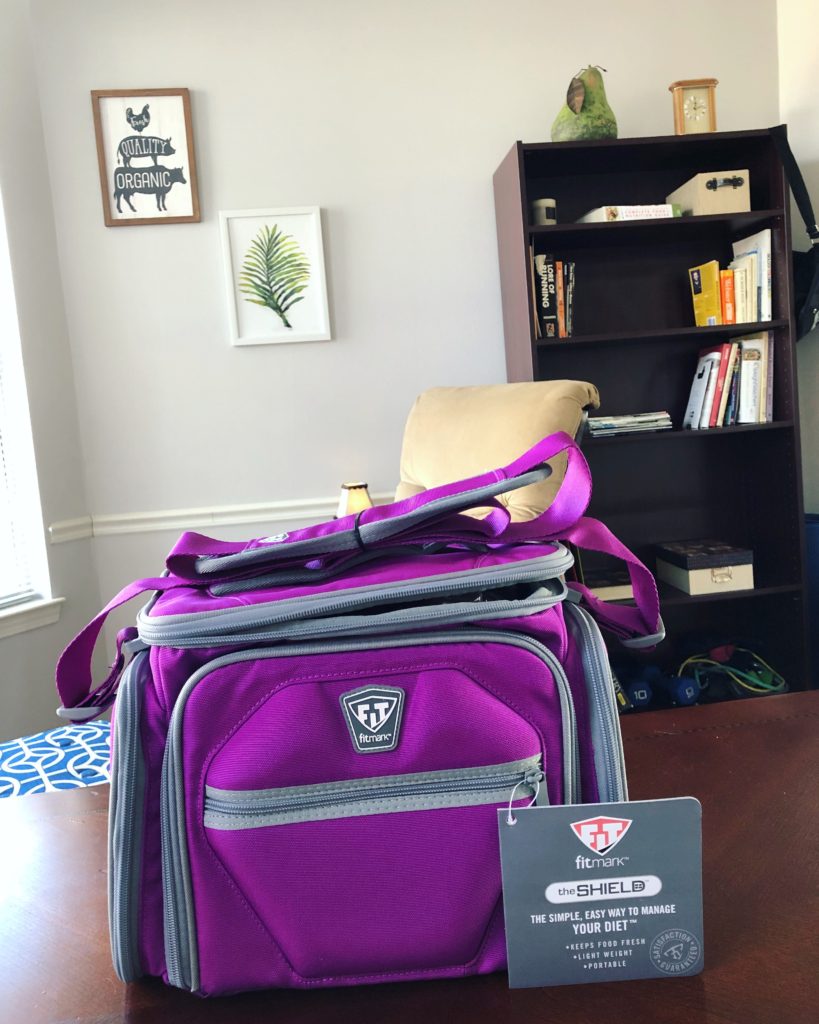 The particular one I have is called The Shield and I have it in purple. But when I tell you I need all of these bags, I'm telling you I need ALL of them. I'm already eyeing the The Box and The Shield LG.
I previously had a cheapie meal prep bag I bought off Amazon and it did it's job for a while – until it didn't anymore. It really broke down quick! It also was a bit small for me and my needs. I knew there were more expensive options out there and I really narrowed it down to two companies and ultimately decided on the FitMark bag. NO. REGRETS.
At first I wondered if it was silly – did I even need a bag like this? I'm not a body builder. I'm just your average mom who likes to eat and get her fitness on. But I am busy and I DO like to have nutritious food options on hand so I'm not going HANGRY or worse – going through the drive-through when I don't need to be. This bag held my meals, snacks, and drinks all day while I was away at school this semester. It goes with us on zoo trips, weekend trips, even just day trips! I know when I start working a job outside of the house, it will be my best friend.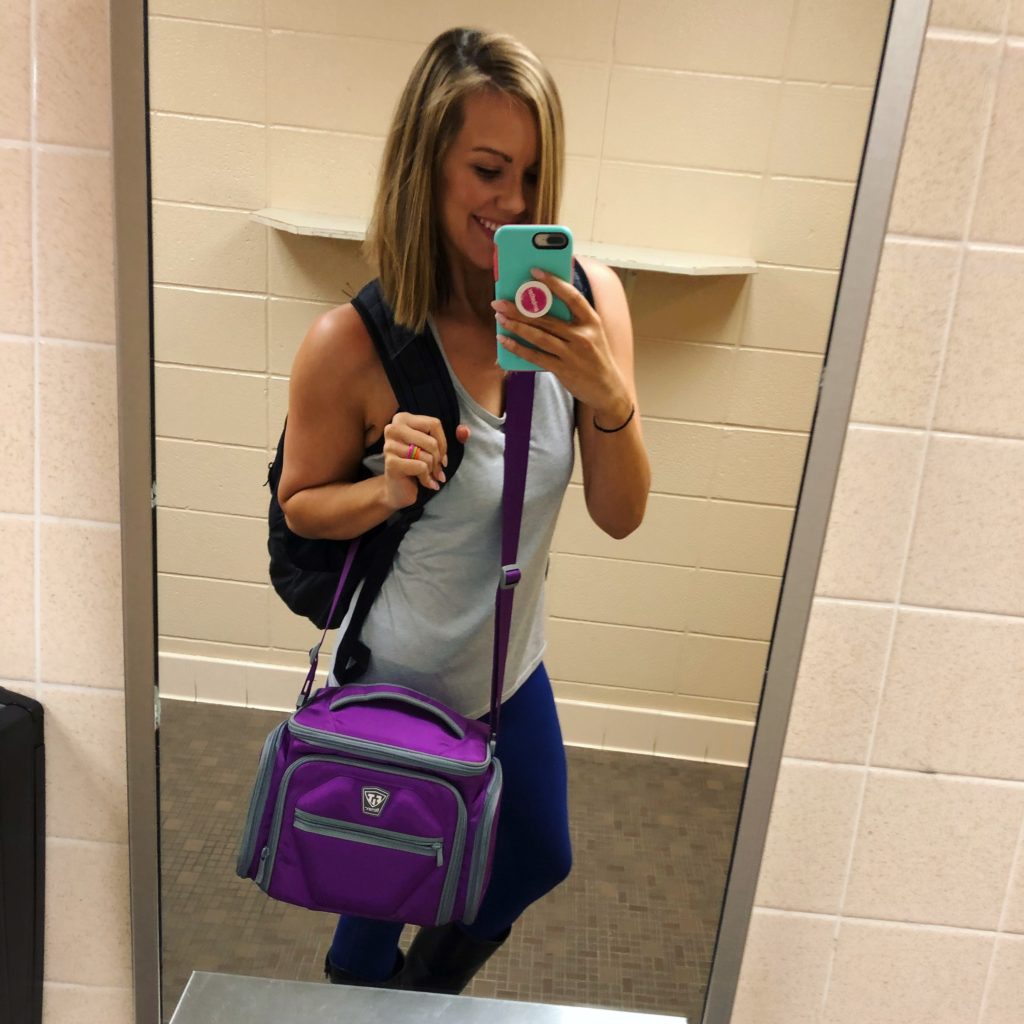 It came with two ice packs, three containers for food, and a divided supplement container (that is great for holding small snacks like nuts too!). It has pockets for silverware and napkins, side pockets for drinks or extra snacks, a back pocket (where I keep school papers and my phone), and a small front pocket where I store my keys and little odds and ends like chapstick. It's truly got everything you need!
Where this bag really shined for me lately was poolside. For my next Poolside Must-Have post I'll be sharing my favorite poolside snacks, but for now, let me just tell you, it held EVERYTHING for my family that we needed for the day and kept it all ice cold while sitting out in the blazing sun!
The one part of this bag that I wasn't totally sure of it's usefulness was the front zipper option where the front drops down and you can pull the containers out (instead of from the top). I hadn't really needed to use this option before but it came through so perfectly this past weekend!
I had packed cut up cheese and turkey to have on crackers and I didn't want to leave them sitting out in the sun to spoil while we ate. At first we were opening and closing the top part of the bag a million times to reach in and grab until I realized I could use the drop down part. Not only did it mean we could just reach in and grab as we needed without opening and closing, but it also kept the food completely shaded and COLD! Such a win. If you want to have food that needs to be kept cold at the pool this summer, you will LOVE having this feature. We also kept hummus in it so we could reach in and dip our veggies! Amazing!!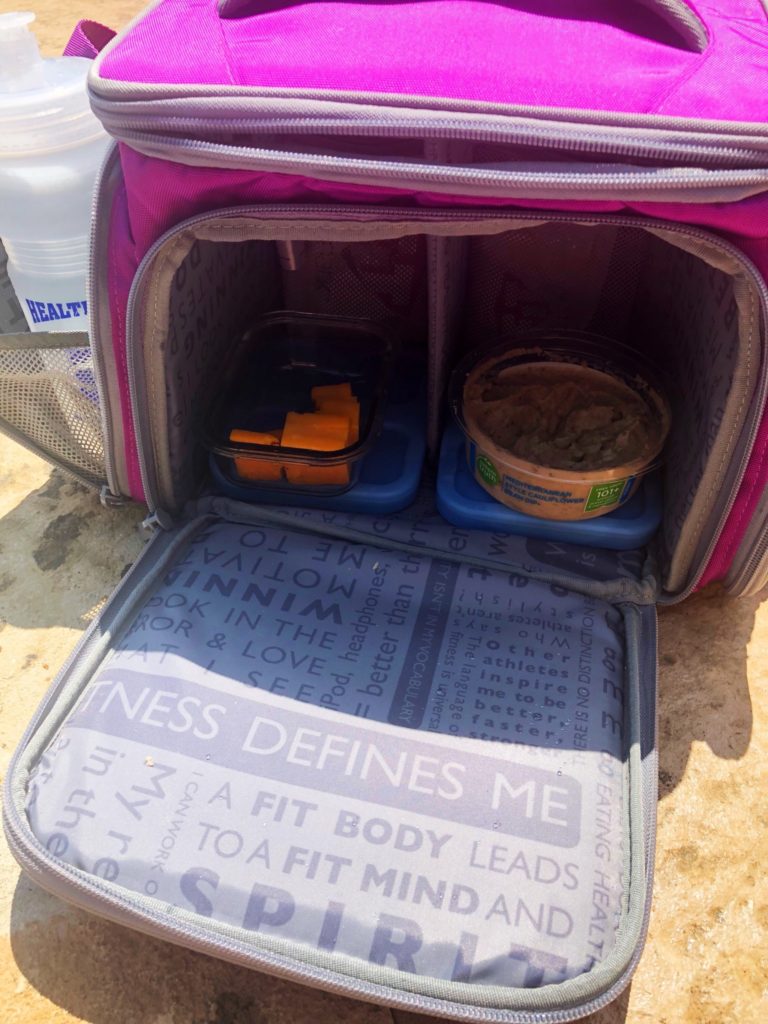 The strap on this bag is made from the same material as a seat belt so it's sturdy. This was another feature I didn't think mattered much until I realized my old bag was constantly slipping off my shoulder and when you're carrying kids, book bags, pool bags, anything – you really don't want something slipping and sliding around (especially food – hello mess!) or digging into your shoulder. The padding on the strap is so soft and keep the bags completely put – even as your hoisting a 3 year old up onto your hip.
The quality of this product is what truly wins out for me. I like to save money, therefore, I am willing to spend MORE if it means the product will LAST. I have no doubt with the quality this bag is made with that it will last me for years to come. Having had another bag to compare it to, I can tell you it FEELS different and is made with pure quality.
Another way this bag saves money – we bring our food instead of eating out. Lunch at the zoo or on a trip adds up quick. It can easily be $30-40 for us when eating out. Even fast food adds up! By packing food we've already bought and paid for and bringing it instead – this bag is worth the money spent on it after just a few uses! 
Having nutritious options around and not having to lug around a cooler that needs the ice changed and is heavy or a lunchbox that is too small to hold all of our food is going to make our pool days so much easier, help us save money, and help keep us eating healthy foods. Check out some of what I packed for us for a pool day below!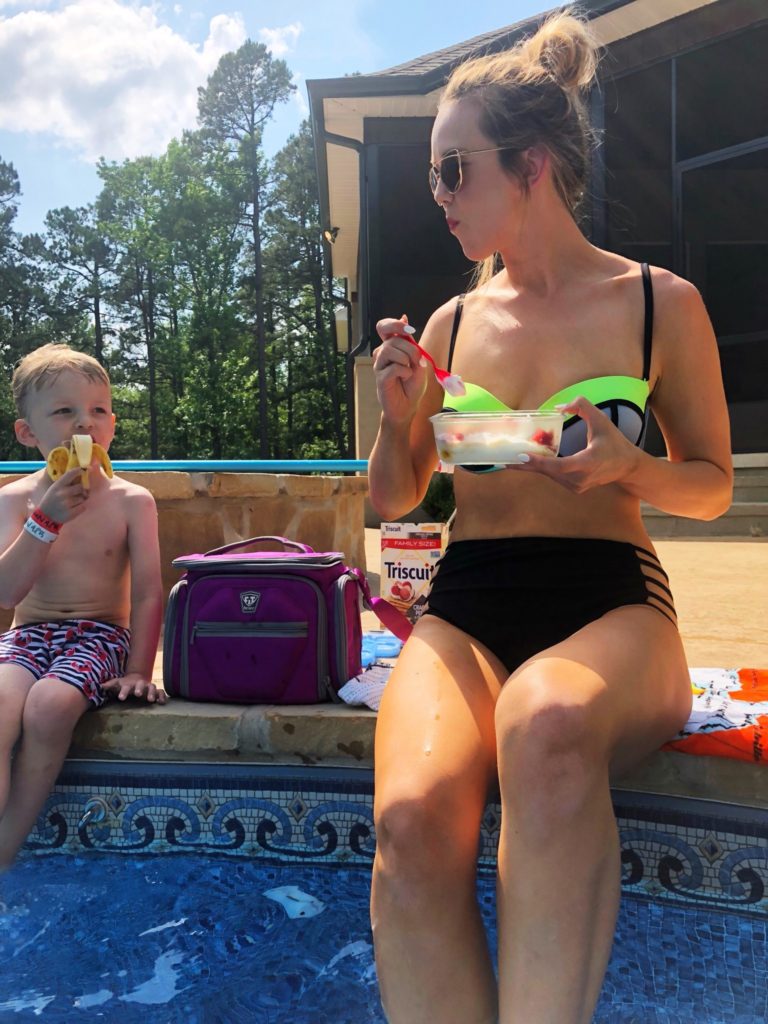 If you're looking for a meal prep bag to carry your meals to work, on trips, or to the beach or pool and you want something that will truly keep your food cold and will last you for years to come – you've got to check out the FitMark bags!
Here's a link to shop:
https://fitmarkbags.idevaffiliate.com/787.html
& Use my code below for 15% off your entire purchase!
code: HILARY15
Stay tuned for Part 2 of my Poolside Must-Haves where I will share my favorite poolside snacks!
Happy Memorial Day weekend everyone!♥
---
---